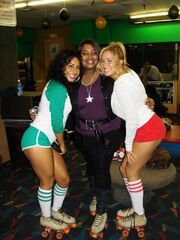 The Hyenas or the The Hyena Sisters (sometimes called), is a cliques in Season 2 which consisted of Tanisha Thomas, Hanna Thompson, and Neveen Ismail (BGC2). They are known for feuding with The Party Girls. Darlen Escobar was an occasional member of both. Many may view this is cliques like a sorority clique.
Ad blocker interference detected!
Wikia is a free-to-use site that makes money from advertising. We have a modified experience for viewers using ad blockers

Wikia is not accessible if you've made further modifications. Remove the custom ad blocker rule(s) and the page will load as expected.