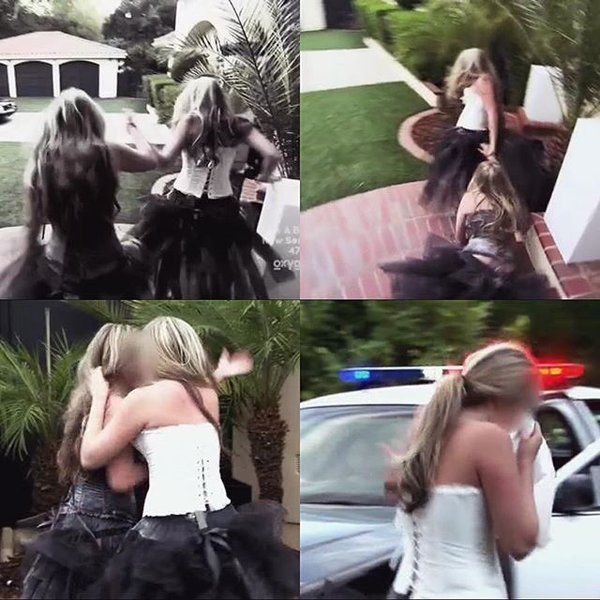 The Ghost Twins Incident is a televised incident that involved the attack of The Hepperle Twins (Amanda & Victoria) by the remaining originals in Season 15.
In Episode 3, the twins were set to replace the Giordano Twins. The two were seen wearing lingerie, handcuffed, and in the company of two male strippers in a "police" car. Upon entering the house the two were covered in flour as they walked through the front door of the house in which it takes place, sparking a loud confrontation that quickly descended into pushing, shoving, slapping and hair pulling. The Hepperle sisters departed the house, and the show, immediately afterward. They left the house within 4 minutes.
Both girls were briefly hospitalized. One of them had a concussion and treated for injuries.
The Hepperle sisters are suing the production company, Bunim/Murray Productions, which is misspelled throughout the lawsuit, Atrium Entertainment, NBC Universal Media, and the Bad Girls Club cast members. They are also suing 50 unnamed defendants of whom they are "ignorant of the true names and capacities."
Kristina Babicz has received more backlash on Periscope when she claimed that they attacked the twins because she looked them up and she found out that they shared the same boyfriend and that meant that they were sleeping with each other.
The twins believe that the attack was set up for ratings.
Their faces were blurred out. This lead to them being known as the ghost twins.
The twins did not want the fight to air.
Some of The Bad Girls reacted to the event:
Jaimee Wallace also commented on her twitter hoping that the fight with the twins and The OGs would air so that it would show how The OGs are haters.
The Clermont Twins also responded with this: "thats so sad & on top of all that the ghost twins seemed really cool if someone greeted me like that im taking it as u wanna fight"
Many fans view this as a disgusting act for ratings.
References
Edit
1. http://deadline.com/2016/06/bad-girls-oxygen-lawsuit-1201770886/
2. https://broadly.vice.com/en_us/article/bad-girls-club-twins-sue-producers-claim-they-set-up-violent-attack
Ad blocker interference detected!
Wikia is a free-to-use site that makes money from advertising. We have a modified experience for viewers using ad blockers

Wikia is not accessible if you've made further modifications. Remove the custom ad blocker rule(s) and the page will load as expected.