Shannon and Shannade vs. Lauren and Jasmine
is the physical altercations between 
Shannon Clermont
, 
Shannade Clermont
, 
Lauren Lewis
, and 
Jasmine Carter
 in
Season 14
, Episode 2,
Double Trouble
.
After a dance class, the girls arrive home and the twins write on Christina, Lauren and Jasmine's pictures saying they will be leaving soon. Lauren tells Jasmine and Tina about this and Tina confronts the twins, wanted to know what they're gonna do. The three go back and fourth arguing. Tina throws food at the twins and they get in each others faces even more before security carries Tina away.Tina is then outside of the phone room telling the girls to throw a punch.
Shannade and Shannon change their clothes and Shannade comes downstairs confronting Lauren. Shannon knocks a cup out of Lauren's hand then pushes her. They get in each others faces and then Shannon steps in to yell in Lauren's face. Security seperates the the twins from Lauren.
Jasmine is on the phone with her father when Jelaminah shouts "I thought she was gonna knock somebody motherf*cking teeth out!" (A comment she made towards the twins before belly dancing class that is un-aired)("She" referring to Jas), this gets Jasmine involved and Shannon tells her to step out the phone room to fight her. The twins and Jela go upstairs while security follows Jasmine upstairs making sure the girls don't fight. Jasmine tries to hit Shannon but misses. Shannon tells Jasmine that she's envious of them, causing Jelaminah to tell Jasmine she's jealous and Shannade says the same. The twins and Jelaminah are taken downstairs by security. Jasmine is being held back by security trying to get to Jelaminah and the twins.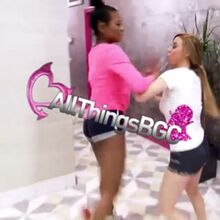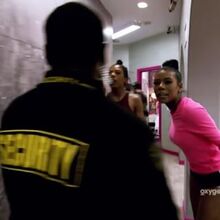 Ad blocker interference detected!
Wikia is a free-to-use site that makes money from advertising. We have a modified experience for viewers using ad blockers

Wikia is not accessible if you've made further modifications. Remove the custom ad blocker rule(s) and the page will load as expected.