Keyaira vs Kiyanna is a physical altercation between
Keyaira "Key" Hamilton
and
Kiyanna Bygrave
featured on
Season 17: East Meets West
Blonde Sided (Round 1)
Edit
Keyaria is started to get mad about Kiyanna and Sayyora"s newfound friendship. While at the club, Keyaira's rage intensifies as she sees the two dancing. When all the girls get in the van, Keyaira starts calling Kiyanna fake and says she's a terrible friend. Kiyanna starts screaming back and tells Keyaira to give her back her headband. Keyaira throws the headband at Kiyanna and Kiyanna tries to swing on Keyaira. All Kiyanna could do is snatch Keyaira's bag away from her because she is pulled away by Francesca.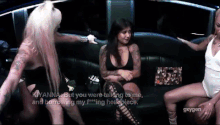 Swimming with Sharks (Round 2)
Edit
The feud between Briana and Francesca is beginning to wear on Keyaira and Kiyanna. Keyaira is sick of Kiyanna always trying to save Francesca whenever an argument happens. Keyaira tries to get away from the argument by doing a confessional with Deshayla. Kiyanna wants to finish the argument, so she goes in the confessional room with them. Kiyanna and Keyaira start screaming at each other and Kiyanna starts getting in Deshayla's face. Keyaira tells Kiyanna to get out of Deshayla's face and Kiyanna pushes her in response. Keyaira leaps and starts punching Kiyanna in the face. Kiyanna falls and pulls Keyaira down with her. Keyaira is still swinging on Kiyanna on the ground while security gets in the way. Keyaira and Kiyanna start kicking each other until the fight is broken up.