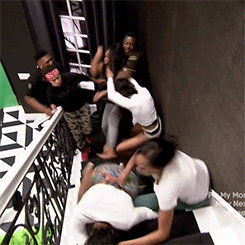 Jazmyn & Jaimee vs Asia & Amber is a physical altercation between the Wallace Sisters and Amber & Asia in Season 15 in Episode 5, A Family Affair (& other tall tales) Part Deux.
While the Wallace Sisters are in the kitchen Amber & Asia confront the sisters about their behavior and claims that the girls claims that girls do not listen to them all. Then Amber overhears Jaz saying she will fight anyone causing Asia & Amber to pursue them and they began fight on the stairs. The Babicz Sisters also tried to pursue them as well but they are stopped by security. Diamond come to the stairs to separate Amber but are pulled by security. After Amber tries to bum rush a producer, she and her sister are sent to hotel.
This one of two stair fights this season. This is the only fight where the Wallace Sisters are not sent to a hotel.
Ad blocker interference detected!
Wikia is a free-to-use site that makes money from advertising. We have a modified experience for viewers using ad blockers

Wikia is not accessible if you've made further modifications. Remove the custom ad blocker rule(s) and the page will load as expected.