Janelle vs. Tiana and Jazmone
is the physical altercation between 
Janelle Shanks
,
Tiana Small
 and 
JazMone Adams
 in the eleventh season of Bad Girls Club. Janelle voluntarily leaves the house due to the fight.
Tiana and Jazmone go into Janelle's bedroom and tell her that it's time for her to leave, but Janelle rebelliously refuses to leave, and the two both attempt to pack up all of her items into garbage bags and leave them outside of the house. Janelle decides that it's time for her to go, and she talks to Andrea, who doesn't exactly have her back in this situation. Tiana comes to confront her and provoke her, and trying to pull her out of the house, leading into a physical fight. Janelle also hits Jazmone, leaves out and splits, and she leaves.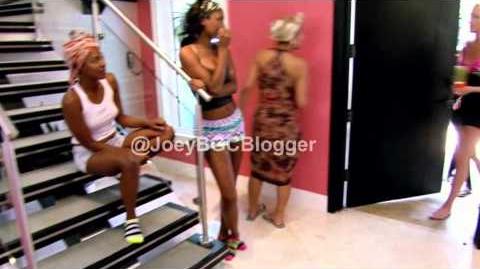 Ad blocker interference detected!
Wikia is a free-to-use site that makes money from advertising. We have a modified experience for viewers using ad blockers

Wikia is not accessible if you've made further modifications. Remove the custom ad blocker rule(s) and the page will load as expected.