Janelle vs. Gigi and Teresa 
is the physical altercation between Janelle Shanks, GiGi Lopez and Teresa Bordeaux in the eleventh season of Bad Girls Club. As a result of this fight, Teresa is removed from the house.
Due to remarks Janelle makes to all of the girls in the house, they immediately ostracize her, and refuse to allow her to hang out with the girls in the club or wherever. After going to the club, they come home and Gina comes face to face to confront her, telling her that she's not going to the VIP with then anymore. She provokes her and as Janelle stands up in Gigis face, Gigi turns around and walks away to take her earrings off and give them to Shanae. Janelle slaps her in her head, leading into a physical fight. Teresa can also be seen jumping in fighting her, as the rest all attempt to jump her as well. Due to the brutality, Teresa is sent home for attempting to kick Janelle with her shoe.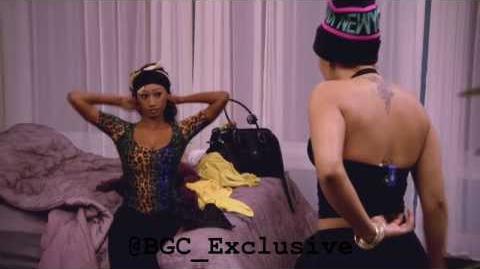 Ad blocker interference detected!
Wikia is a free-to-use site that makes money from advertising. We have a modified experience for viewers using ad blockers

Wikia is not accessible if you've made further modifications. Remove the custom ad blocker rule(s) and the page will load as expected.