Jada vs. Linsey
is the first physical altercation of
Season 12
between 
Jada Cacchilli
 and 
Linsey Jade
. The fight resulted in Linsey's departure from the house.
The rivalry between Jada and Linsey rooted from Linsey's aggressive and rude behavior that occurred in the limousine once everyone met each other. When Linsey provokes Alex, Jada tries to intervene until Linsey retaliates towards her. Once the girls are settled into the house, Linsey accuses the girls of stealing her make-up. A heated argument between Jada and Linsey occurs and Jada hits her in her face. The second altercation occurs in the limo, as Linsey continues her aggression. Jada retaliates when Linsey attacks her, by pulling Linsey by her hair and punching her in her face multiple times. Linsey returns to the house pushing the filmmakers away, and she is sent home.
Linsey's Death
Edit
After Linsey Jade's death was confirmed by Oxygen, Jada was one of the bad girls to send her condolences to Linsey's family, and also revealing that even though they weren't friends, they reconciled shortly after the Bad Girls Club incident.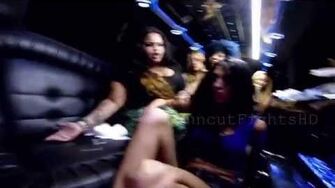 Ad blocker interference detected!
Wikia is a free-to-use site that makes money from advertising. We have a modified experience for viewers using ad blockers

Wikia is not accessible if you've made further modifications. Remove the custom ad blocker rule(s) and the page will load as expected.