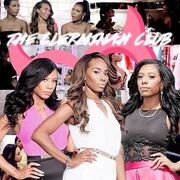 Clerminah is clique from Season 14 who is best known for feuding with The 1X. They often believed that they were better than the other roommates and often referred to the others as "Trash" or "Peasants". They were often referred to as the mean girls of the house. All three girls were removed in Episode 7.
Jela was the only one invited to the reunion.
Jela is currently cool with Lauren (THEY ARE ONLY COOL WITH EACH OTHER).
Jela said in an interview that out of everyone who apologized for ruining their stuff, Lauren was the most sincere. It has been said that the two hugged it out after the reunion was over.
In their seperate interview they all said that the night that they were removed that they were most hurt by Kat when she participated.
Clerimah is currently in a twitter beef with Erika and fellow castmember/leader of the 1X Jasmine with Judi in on their team.
The twins are banned from the network.
Ad blocker interference detected!
Wikia is a free-to-use site that makes money from advertising. We have a modified experience for viewers using ad blockers

Wikia is not accessible if you've made further modifications. Remove the custom ad blocker rule(s) and the page will load as expected.