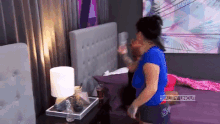 Brynesha vs. Zee are multiple physical altercations that occured between Brynesha "Talone" Seegers and Zee Carrino in throughout Season 16: Social Disruption.
#ShaBully (Rounds 1 & 2)
Edit
Round 1 It all started when Brynesha told Tabatha that Zee was fake. Tabatha then told Zee about what Brynesha said. Zee ran up the stairs and walked into Brynesha's room. Brynesha was sleep at the time. She woke up when Zee came in her room screaming. They both started to argue. Brynesha then sat back down and Zee poured some water on her and the two started fighting. After the two were seperated, Brynesha tried to run after Zee downstairs. Brynesha pushed the security guard down and ran. Elliadria ran after Brynesha & held her back.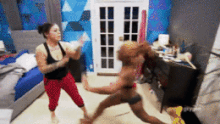 Round 2 After coming from the club, Brynesha was ready to fight. She walked into Zee's room and asked her if she wanted to see her. Zee woke up and stared blankly. Brynesha walked out of the room and Zee got up. Brynesha stood outside the door and her & Zee started going back and forth. Brynesha then runs in the room and gets into Zee's face. Zee pushed Brynesha and they started to fight.
#GERMWARFARE (Round 3)
Edit
Round 3
After kicking Kailie out of the house, Brynesha is feeling some type of way towards Zee. Her and Zee start arguing downstairs. Brynesha begins putting her hands in Zee's face and Zee begins swatting her hand away. Brynesha then swings at Zee and the two start fighting. Ad'ryan tries to break it up but stops when Zee thinks shes jumping.
Ad blocker interference detected!
Wikia is a free-to-use site that makes money from advertising. We have a modified experience for viewers using ad blockers

Wikia is not accessible if you've made further modifications. Remove the custom ad blocker rule(s) and the page will load as expected.