"
A Bad Girl knows what she wants and how to get it. She makes her own way, makes her own rules and she makes no apologies. A Bad Girl blazes her own trail and removes obstacles from her path. A Bad Girl fights and forces her way to the top with style and beauty. A Bad Girl believes in jumping first and looking later. People will love you. People will hate you. Others will secretly wish to be you. A Bad Girl is you.
"

—The Bad Girls Club Creed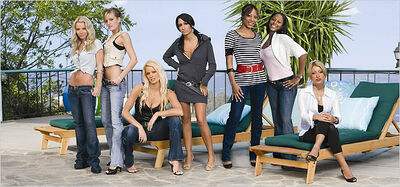 Each season of Bad Girls Club focuses around seven rebellious, quarrelsome, and possibly aggressive women known as "Bad Girls", all of which hope to evolve from their negative ways and become a "charismatic, tough chick". Despite this, mischief and violence is common among the girls as their different personalities and backgrounds clash while they enjoy a three month luxurious lifestyle.
During their stay, a bad girl may leave or get kicked out of the house. If this takes place earlier in the season (or before the final week), a replacement bad girl will arrive to take their place. Replacements are often treated with prejudice and often hazed or aggressed at.
It is common for the girls to form "cliques" while in the house. The girls often engage in sexual acts, parties, mischief, and arguments while in the club.
Ad blocker interference detected!
Wikia is a free-to-use site that makes money from advertising. We have a modified experience for viewers using ad blockers

Wikia is not accessible if you've made further modifications. Remove the custom ad blocker rule(s) and the page will load as expected.