Amy vs. Gia 
is the physical altercation between 
Amy Cieslowski
 and 
Gia Sapp-Hernandez
 in the eighth season of Bad Girls Club.
Amy tries to make peace with Gia but backfires. So Amy puts her finger on Gig's face for her to listen so Gia somewhat hits her and says don't touch me while Amy pushes her off the bed and she gets back up Amy falls and gets her hair pulled by Gia.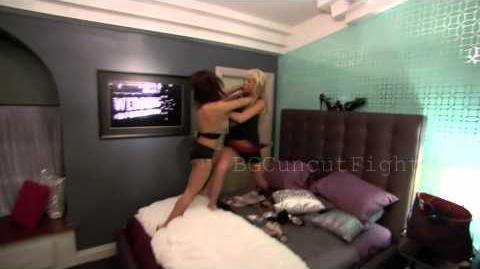 Season 8: Las Vegas Fights
House Fights
Amy vs. Gia
Amy vs. Gia and Demitra
Gia vs. Jenna
Amy vs. Demitra
Jenna vs. Erica, Gia, and The Victor Twins
Elease vs. The House
Elease vs. The Victor Twins
The Victor Twins vs. Gia, Elease, Erica, and Demitra
Christine vs. Gia, Elease, and Camilla
Camilla vs. Amy
Camilla vs. Demitra, Elease, Erica, and Amy
Camilla vs. Amy, Demitra, and Elease
Reunion Fights
Camilla vs. Elease
Gia vs. Audience Member
Ad blocker interference detected!
Wikia is a free-to-use site that makes money from advertising. We have a modified experience for viewers using ad blockers

Wikia is not accessible if you've made further modifications. Remove the custom ad blocker rule(s) and the page will load as expected.