| | | |
| --- | --- | --- |
| " | You cannot trust a bad girl. They are shady, shady bitches. | " |
Amber Meade (also known as The Firecracker) was a bad girl on season 3 of the Bad Girls Club. She also appeared on Bad Girls All-Star Battle, but after lying to her teammates, she was eliminated.
Personality
Edit
Raised in a religious family in a small town in Minnesota, Amber takes Oakland Raider's football owner Al Davis' approach to life -- "Just win, baby." Don't let this bombshell blonde, with her goofy attitude and sweet disposition, fool you. She will do whatever it takes to win: cheat, lie, and steal... and she won't hesitate to crush anyone who gets in her way, especially with 100 grand on the line. While others are here for the battle, Amber is here to win the war.
Although she has not done nude pictorials, unlike some other Bad Girls, she has often been photographed in a bikini. Candid photos from 2013 show her pulling down the front of her bikini briefs in the ocean, almost exposing her private parts.
Amber M entered her season with a friendly, bubbly personality, but sparks quickly formed when fellow housemated Ailea Carr, Whitney Collings, and Kayla Carter found themselves annoyed with her inability to let things go. After a loud argument on the first day, however, Amber quickly became friends with Kayla, as well as fellow "Amber", Amber Buehl, the later of which she invented a show intitled "The Amber Show", mocking the other girls. Despite this, an argument at a restaurant led to a physical altercation in the car and at a nearby gas station involving Amber and Kayla, resulting in Kayla being sent home.
After the altercation, the house initially attempted to form a pack and torment the new cast member and Kayla's replacement, Ashley Weaver. During this, the Ambers were the only ones to treat her with respect. Despite this, she quickly turned on them when the other girls began to accept her. After a repeated amount of disagreements, Amber M's friendship with Amber B was tested when the other girls began to turn on her. Amber M stayed by Amber B's side, resulting in a large war between the girls that eventually led to Amber M getting jumped by Whitney, Ailea, Ashley, and Tiffany Davis. The altercation resulted in Whitney being sent home and Ailea leaving the house. After this altercation, the girls enjoyed their last few days in the house by trashing it.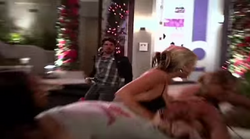 The Ambers made an appearence late in season 4, promoting their show, "The Amber Show". They took a liking to 
Lexie Woltz
 and 
Amber McWha
, whereas 
Kate Squillace
 took a disliking to them.
Amber M ironically appears later to defend Kate while Amber MW and Lexie jump her.
Bad Girls All-Star Battle (season 1)
Edit
Amber makes another appearence on season 1 of Bad Girls All-Star Battle. She enters the house in an alliance with the other "Bad Girl Pedigrees", Natalie Nunn and Flo Kaja. Not long into the season, however, she takes advantage of Natalie's trust in her by placing one vote to send Natalie home, knowing that it would result "in a show". Amber was sent home a few episodes afterward.
Bad Girls All-Star Battle: Twinstant Replay
Edit
Amber makes an appearence via video camera as a guest during Natalie's segment. Natalie, still mad about her voting her out, confronts her on it. This results in an argument between the two.
Interview Looks
Edit
Ad blocker interference detected!
Wikia is a free-to-use site that makes money from advertising. We have a modified experience for viewers using ad blockers

Wikia is not accessible if you've made further modifications. Remove the custom ad blocker rule(s) and the page will load as expected.